With the increasing amount of available content and TV channels, it's more important than ever for broadcasters to "stand out". In this fierce battle for the viewer's attention, aesthetically pleasing set design and impressive effects are becoming more and more important.
Traditionally, TV broadcasters have led the way in set design. They hired the very best designers to ensure that their sets were modern and innovative. Today, set design is being used in new ways – from Fortune 100 corporations leveraging video to connect with new and existing customers, employees, partners, and shareholders, to worship productions looking for more creative, inspired storytelling. These new types of sets often that rival the news, weather, and sports show set designs seen on mainstream TV programs.
At the same time, everyone is under pressure to create more content while reducing costs, which leads to the inevitable introduction of robotic camera systems and automation in these cutting-edge sets. Robotic camera systems, whether they're floor- or ceiling-mounted, also enable the users to create captivating, dynamic camera shots that "wow" their audiences.
Set Designer's Perspective
When designing a new set, the designer must combine different, seemingly contradictory aesthetic and functional requirements. Some broadcasters still use static viewpoints in their shots, but this is rapidly being replaced by moving viewpoints, mostly from either free-roaming, rail-based or jib-based cameras.
Hence, it's not a surprise that leading designers like Mack McLaughlin, CEO & Creative Director for FX Design Group, start the design process for their sets with the camera shots. It's important for the designer to know how many cameras are available and whether they're fixed or robotic cameras, as this allows them to get an idea of how the set can work around the camera. Robotic cameras offer the benefit of movement, which allows for greater flexibility when planning the set's layout. "If they have robotic cameras and jibs, then we have an opportunity to open things up a little bit – to give them more freedom in the design so it's not as locked-in," McLaughlin says.
Watch our complete interview discussing TV set design, robotic cameras and industry trends with Mack McLaughlin here:
It's important that these cameras are non-intrusive and well-integrated with the rest of the beautifully crafted set, but the set must still give the cameras all the freedom to create those spectacular shots. This poses a few challenges.
Broadcast Set Design Challenges
Integrating Cameras and Prompters
To create dynamic shots, producers will often use rail-based dolly systems, but many prefer to hide them so that they're not shown in the broadcast. Some do show them, but they have to be part of the design by looking attractive and blending in well with the rest of the set.
Integrating teleprompters is another challenge. Set designers want to make everything look stylish, but teleprompters are typically not attractive pieces of design. On-air talent often prefers to have large prompters so they can read them easily, and their size makes them more difficult to integrate. Prompters and talent monitors and the resulting counterweights often make up the majority of the payload weight, which requires larger, heavier robotic systems that are naturally more obtrusive, and often not as flexible. Finding systems that can provide both the desired dynamic movement while supporting a full prompter and talent monitor can be a challenge.
Hiding Rails and Cabling
For those who use rail-based camera systems in their broadcasts, the rails can either be mounted on the ceiling or floor, depending on the design requirements. With floor-based systems, many designers will want to hide the rails and cabling so that they're not visible.
Ceiling-based rails are less of a problem than floor-based rails in this regard as the ceiling of a set is typically not shown during a broadcast. However, some producers are beginning to put set pieces on the ceiling so they can film it as well, and this will likely become more common in the future. Ceiling systems also pose other challenges: safety, stability and interference with lighting. These challenges can be addressed and must be considered during the design process.
For more information on safety and stability considerations for ceiling-mounted camera systems, you can read our whitepapers "Safety Considerations for Ceiling-Mounted Camera Systems" and "Ceiling Rails and the Pendulum Effect".
Tracking for Virtual Reality
There are three types of virtual reality that can be used as part of a broadcast. The first type is "classic" virtual reality (VR) using green screens, which is becoming less popular. The second type is augmented reality (AR), which is used to insert virtual objects in front of subjects. The third type is extended reality (XR), which uses LED walls. Instead of using static or semi-static images, they're driven by graphics engines and used to create virtual sets.
Incorporating virtual reality into a broadcast usually requires camera tracking in some form. This can be a problem from a design perspective, as most systems require sensors placed around the set. These sensors look like an array of dots, and they are not attractive pieces of design, which makes them difficult to integrate aesthetically.
For those who don't want to use sensors in their sets, other solutions do exist. For example, some robots have mechanical tracking built-in, so there's no need for these sensors to be used as part of the design. This allows for virtual and augmented reality tracking without the sensors.
Dispelling Misconceptions
Some set designers don't want to use floor-based rail systems as they think they lose out on flexibility by doing so. They think that once they put the rail down, they won't change it, so they're fixed to a limited number of shots that they can do. However, with a well-designed set, this is not an issue. With a setup that has, for example, one or two floor-mounted systems and two free-roaming pedestals, broadcasters can create basically any shot they want. Click here to watch how RSI studio made this possible.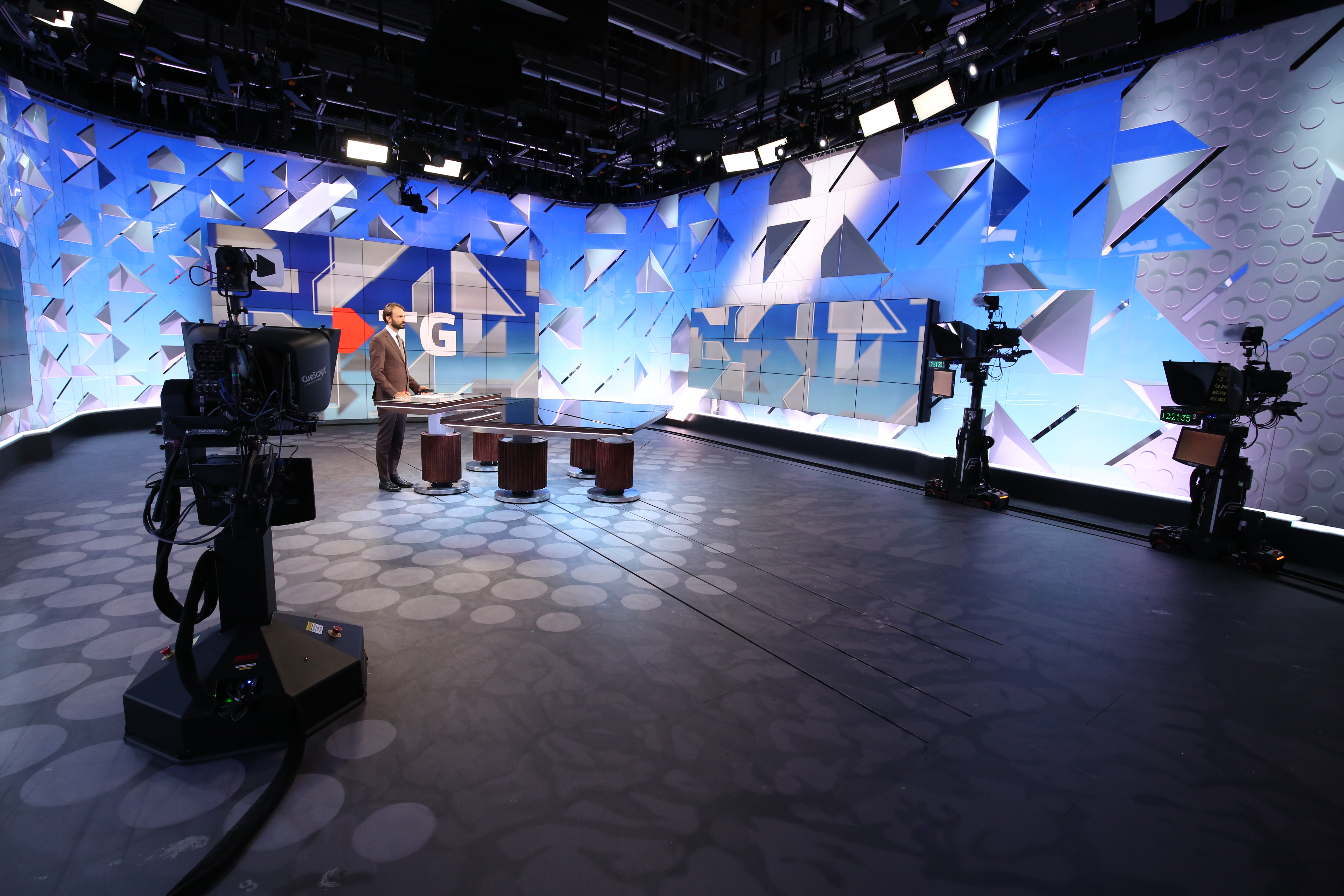 Another misconception is that rails are ugly when used in a set design. Some designers choose to just put the rails on the floor of their sets, which is not very attractive from a design standpoint. However, others choose to integrate the rails into the design so that they're not as obtrusive. It's absolutely possible to include floor-based rails in a set in an attractive way.
For an example of a well-designed set that incorporates rails, check out the VTM News set in Belgium:
Studio Robotic Solutions
There are several potential solutions for set designers looking to integrate robotic camera systems into their sets while still ensuring that they are attractive and aesthetically pleasing.
Floor-mounted camera systems use rails and robotic dolly systems. These rail systems allow broadcasters to create more dynamic broadcasts, while at the same time delivering more stable and repeatable shots.
Ceiling-mounted systems can provide greater flexibility and enhance audience experience by replacing pedestals, cranes and jibs, and freeing up space in the studio by moving the camera from the floor to the ceiling.
Free-roaming pedestals provide a high degree of flexibility, as they allow the camera to be positioned anywhere around the studio floor while providing remote control/programming of all camera axes.
With these three options, set designers can choose the set-up that works best for them. By combining different options, broadcasters can achieve a high degree of flexibility and creativity in their broadcasts.
Customization of Rail-Based Systems
Rail-based robotic studio cameras can offer the benefit of full customization. Designers can tailor their solutions for any use case, and they have the freedom to choose aspects like rail length, radius, color, and more. This customization allows them to meet all their technical requirements while still choosing equipment that is attractive from a design perspective.
Additionally, to fully maximize the set's aesthetics, designers can choose to integrate any cables within the floor so that they're fully hidden, and they can select robots that offer built-in mechanical tracking for virtual solutions, so they don't need external sensors around the set.
Conclusion – Captivating Audiences
The concept of set design is currently more important than ever. Broadcasters must do everything they can to keep viewers' attention, which is why attractive sets and impressive camera moves are so crucial. They are also tasked with adding more content while bringing down costs, which is why many are turning to robotic camera systems. While these systems do pose distinct challenges from a design perspective, these can be mitigated with careful planning, customization and integration. The benefits that studio robotics provide to broadcasters are unmatched – higher quality, better repeatability, and lower operating costs. There's no better way to create stunning, dynamic shots that transform the broadcast and captivate audiences while still allowing for beautiful, well-designed sets.
About Ross Robotics
Ross Video has the most complete studio robotics offering available, whether you are looking for the unparalleled smoothness of a track-based system, the unbeatable flexibility of a free-roaming pedestal, or the simple efficiency of a standalone pan & tilt head. All Ross robotic systems are designed, developed and manufactured in-house, using state-of-the-art technologies that provide industry-leading accuracy, precision, and payload capacity.
Have a project on the go? Whether you're looking for help with a news, weather, or sports show set design, our team can provide expert guidance and solutions to make your project a success. Email us: solutions@rossvideo.com.
For more information on Ross Video's robotic camera systems, visit our website.